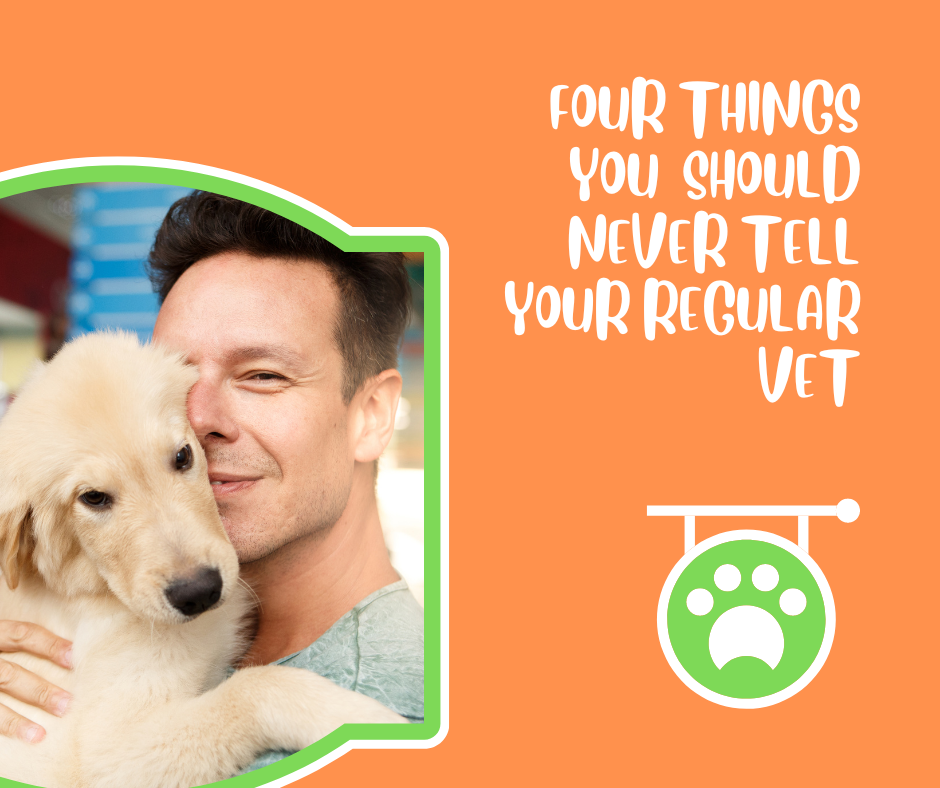 Why is this even a question – a consideration? Because shouldn't pet owners be able to have a truthful, respecting relationship with their healthcare provider? Their veterinarian? After all, the pet owner is truly in charge of their pet's health.
xx
In reality, pet owners consult with veterinarians because vets do have some training that the average pet owner doesn't have. Vets are supposed to understand health processes and how the body works.
But the reality is, in most cases, if you tell your veterinarian the truth about certain things, you will be shamed. Hard-core. Major guilt trip!
Some of you probably know what some of these discussions are because you've already been put into this situation by your veterinarian. And isn't that a shame? Because you want to respect your veterinarian and yet your veterinarian doesn't respect you enough to respect your health care choices for your pets.
So what are these four things?
I feed a raw diet
I don't want to vaccinate today
I don't give heartworm medicine
I want to treat this naturally
So why don't we tell these things to our regular vet? After all, we should be able to have an intelligent conversation with these people. They should actually have our pets' best interest in mind.
But they don't.
These days, most veterinary clinics are owned by corporations. So the bottom line is more important than anything else. These clinics now have to perform and make a certain amount of money per client in order to keep the hospital administrators off their back. So it's now about the hard/crush/up sell rather than actual patient health.
So if you're going to do some thing that may actually heal your pet, you are affecting the veterinarian's bottom line. Their goal is to sell you a product, otherwise they are not improving their "average client transaction". It's all about ACT. It's not about the dog or cat.
So how does the veterinary system manipulate you into that? They get you to buy their garbage food which makes your pets sick which has you coming back for "help". They get you to buy their "medications" that have incredible side effects that get you to go back so they can sell you more to counter the side effects.
What's funny is, these day, it starts with the food talk. Twenty years ago food wasn't even a discussion in most veterinary offices. Now, if you're not feeding a grain-based, high carbohydrate diet, the heavy guns come out. And imagine admitting to feeding a raw diet? Now it's time for the surface to air missiles and veterinarians spew all of their so-called information that we learned in vet school tell people why raw food is so dangerous. Which leaves the pet owner really confused because most pet owners who are feeding raw have seen firsthand how well everything works on a raw diet.
The vaccine thing is tough. Because there's that law about rabies vaccines. But where did that law come from? It came from the need to protect humans from rabies. It's a human public health issue. It's really got nothing to do with protecting our dogs and cats. Because if it were about protecting our dogs and cats veterinary offices would recognize the science that we learned in veterinary school that the very first rabies vaccine protects pets for their entire life. Seriously. Life. But if you, as a pet owner, aren't getting boosters on those vaccines, then you're not going to the vet clinic for the upsell and the vet clinic isn't making money.
Yes distemper and parvo are real diseases. So is rabies. But there's common sense. There are measures to take to help immune systems be strong. There is scientific evidence of when to vaccinate and how to get life immunity. But if you follow common sense then the veterinary hospital is not making money, are they?
And then the whole heartworm medicine and natural medicine thing. Thanks to Rockefeller early in the 1900s, herbal medicine, homeopathic medicine, anything natural, has been "proven" to be a sham. Therefore, these natural things will never be licensed or able to make health protection claims. OK. But as the pet owner, it's your choice. So if you've taken steps to do what you can to protect your own health, why don't you do it for your pets?
And if your veterinarian is busy shaming you for your health decisions then maybe you're at the wrong veterinarian? Because as veterinarians we are supposed to do no harm. We took a version of the Hippocratic oath just like medical doctors. The side effects of medications, shots, and low quality pet food are well-known. As veterinarians we have a choice to stick our head in the sand and ignore the evidence. Or we can make the choice to help our pet patients' parents guide their pets to better health.
Our fear of losing income leads to our profession fostering your fear of losing your pet. If you are afraid, you'll spend more money. Who wins and who loses in this scenario?
xxI encourage you to do the math.